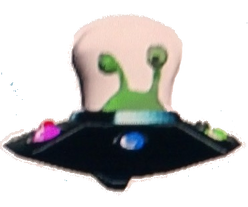 "It's a mystery! Are we alone?"
    —UFO Hat's Description
The UFO Hat is a disguised Magic Item that was originally distributed as a promotional item for those that preordered Skylanders: Swap Force at Target in North America, and GameStop in Germany, Switzerland, and Austria. Placing the card on the portal gives the UFO Hat.
The card itself was available for Wii, Wii U, 3DS, PS3, and Xbox 360. It was not offered for preorder for the PS4 or Xbox One as those were released at the launch of those consoles. Despite this it also works on the PS4 and Xbox One.
In Skylanders: Trap Team, the card is still required to unlock the hat in the console game, while in the 3DS version, it is possible to obtain the hat in one of the hat boxes.
In Skylanders: SuperChargers, it is also possible to obtain the hat, through randomized Treasure Chests or in the Academy Store.
Gallery
Trivia
This is the only Magic Item that does not have a sculpture, but instead is in a card.
It's also the only one that gives a hat.
There is a creature inside which resembles a Chompy.
In Trap Team, the shape and design of the UFO Hat has changed.
This item's artwork is only visible through the Trap Team Collections menu.
Community content is available under
CC-BY-SA
unless otherwise noted.