Will it be good?
Hey there is a new Skylands game coming out!
Let's hope that it will be GOOD this time!
Dark Edition and Wii
Dark Edition is real. Kaos Trophy is real.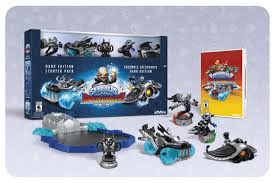 Wii version is real. Look at the bottom of the logo.
Wii Dark Edition is real. Look it up in Toysrus.com put in the bar: skylanders superchargers wii dark edition.
hi 04:03, July 9, 2015 (UTC)
Cyborg, may I suggest SEARCHING before making a duplicate article of the already existing Kaos Trophy? -- Aura24 (talk) 04:10, July 9, 2015 (UTC)
Skylanders SuperChargers dark edition will be my first dark edition i will get in the Skylander franchise. I like Dark Spitfire, because his color desing makes it look like he is a shadow like creature wearing armor.
DarkHenrik (talk) 10:11, July 17, 2015 (UTC)
Adding to the trivia
Because this is also the first consol game where the villains of Portable games make their appearance, Though i think Hector might be the only one who is not going to make an appearance, i don't really know because i have not seen him in any of the trailers. DarkHenrik (talk) 16:54, August 21, 2015 (UTC)
Also add that the console version of this game will be Hugo's first major role since Spyro's Adventure. MewtwoLucario (talk) 17:15, September 3, 2015 (UTC)
Bowser/DK
To whoever can edit Bowser and Donkey Kong's pages, there is a way to make internal links to other wikis. For Bowser, the link would be [[mariowiki:Mushroom Kingdom|Mushroom Kingdom]] and for DK, it'd be [[w:c:donkeykong:Donkey Kong Island|Donkey Kong Island]]. Chimera-gui (talk) 17:06, September 20, 2015 (UTC)
hub world
what is the hub world for this game??? 60minuteuser626 (talk) 22:48, October 4, 2015 (UTC)
How did they choose the Skylanders to promote to SuperChargers?
I'll admit that my kids and I didn't give this title as much attention as we did Trap Team, but that said, I was really intrigued that they upgraded select core Skylanders rather than design new characters. I think part of this is likely because Skylanders Academy was already in production at the time.
That said, there are two characters that for some reason just don't sit well with me: I don't see why Trigger Happy and Eruptor were made SuperChargers, not because I don't like their characters, but because there were better options for those elements.
For Fire, I would have picked Fryno. Granted, I don't think he had the breakout value in Swap Force that Pop Fizz had in Giants, but he is a biker and his attacks are already intertwined with his motorcycle. Perhaps is was simply bad timing; the character had a Series 2 figure released for Trap Team , so making him a SuperCharger would have been three consecutive releases.
As for Tech, I really would have chosen Sprocket . Much like Fryno, she's already designed with a vehicle. Her Series 2 version in Swap Force gave her a tank, so I really think that would've been a lot of fun to see in SuperChargers. On that same note, Tread Head was also a tech element designed around (or in his case, literally inside) a vehicle. But I can see why they didn't chose any of the Trap Team characters to promote for the next game.
Alright, rant over.
Artisan219 (talk) 18:35, October 24, 2016 (UTC)
Community content is available under
CC-BY-SA
unless otherwise noted.