Raise a Floppa - The Loop
Play Sound
"Silent but Deadly!"
    —Stealth Elf's official catchphrase
Stealth Elf is an elven ninja who is one of the playable Skylanders in Skylanders series. Her Legendary counterpart is Legendary Stealth Elf, who is a Toys R Us exclusive. She has a Series 3 counterpart called Ninja Stealth Elf, and she is also one of the three starter Skylanders in Skylanders: Ring of Heroes.
Stealth Elf is redesigned as a SuperCharger in Skylanders: SuperChargers. She is called Super Shot Stealth Elf and is part of the console Starter Pack.
Character Development
Stealth Elf represents one of the more tactical Skylander designs. The core abilities are much like Ilwrath Avenger from Star Control 2. Early on, Toys For Bob was still figuring out the Skylanders formula so they see Stealth Elf with a not-very-combat-effective mobility only move in the Arboreal Acrobatics upgrade. While the controls are crisp and responsive, the move only really shines in the Pook Blade Saint upgrade path. The Shadowsbane Blade Dance upgrade turns Stealth Elf's Arboreal Acrobatics into a flying blender. The Forest Ninja upgrade path allows players to leverage positioning all the while dropping aggro from enemies. The Blade Fury combo attack draws influence from Rock Lee's Ura Renge.[2]
Background
Physical Appearance
Stealth Elf's signature outfit consists of a brown, cropped tank top that reveals her bare green skin, matching gloves with two gold buckles on each wrist, mask, tights, skirt, and boots with the same buckles. Her blue hair is styled into a braid with bangs covering her forehead.
Personality
Stealth Elf, like all elves, adores nature. She is considered to be a guardian protector of the forests and of Skylands. She may be a highly trained ninja, but sometimes Stealth Elf is known to have a sense of a rampaging Cyclops Mammoth.[3] She speaks her mind, whether others want to hear it or not. She can sneak her way into any enemy's territory, but can also be tactless.[4] Like all Life Skylanders, Stealth Elf prefers to keep her feet on the ground. Stealth Elf is also known to use trickery to get out of situations she doesn't feel like doing herself, using her decoys. [5]
Biography
As a small child, Stealth Elf awoke one morning inside the hollow of an old tree with no memory of how she got there. She was taken in by an unusually stealthy, ninja-like forest creature in the deep forest. Under his tutelage, she has spent the majority of her life training in the art of stealth fighting. After completing her training, she became a Skylander and set out into the world to uncover the mystery behind her origins.
Story
History
Stealth Elf can't remember much about her family or from whence she came. But she is the only Skylander who can skewer and slice through a platoon of ne'er-do-wells before slipping away unseen. Stealth Elf's earliest memory is of waking with a start and screech, following a nightmarish dream of stampeding sheep. But when she awoke there were no woolly warriors in sight - only woodland and a complete memory blank. With a sniffle and a sigh, she picked herself up and set off in search of answers. After several days, she stumbled on a gnarled, stumpy-looking creature with the lightning moves of a ninja master. It turned out the creature was the guardian of the forest and trained in the ancient art of stealth.
Sensing the young elf's skill for sneaking, the guardian immediately made her his apprentice. Sure enough, Stealth Elf was a natural and soon, ran rings around her increasingly ragged sensei. Master Eon was invited for a look, and was knocked out by her nifty ninja skills. She was made a Skylander on the spot and served not only guardian of the forests, but protector of the world.[6]
Spyro versus The Mega Monsters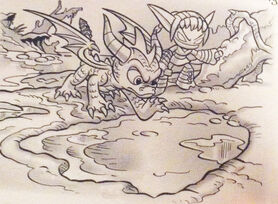 After investigating Stinky Swamp, Stealth Elf returned to Eon's Citadel to inform the veteran Portal Master of a terrible monster lurking within the swamp. She was then accompanied by Spyro to search out this monster, saving a Mabu named Snuckles from Chompies along the way. The Mabu explained that he was looking for a friend, Nort, who went missing in the swamp. The two Skylanders were then attacked by an unusually giant titchy toad, whose toxic saliva caused Spyro and Stealth Elf to fall asleep while Snuckles was nearly eaten and torn apart by the titchy toad, only to be saved by the timely arrival of Kaos, who claimed that he was turning over a new leaf by defeating evil-doers and had saved Nort from the toad. Stealth Elf was woken up by Spyro in time to hear Kaos renouncing his evil ways before he departed, leaving Spyro and Stealth Elf in disbelief.
As news of Kaos saving the residents of Skylands from mega-sized creatures were made known, Stealth Elf stayed behind while Jet-Vac, Drill Sergeant, and Spyro were instructed to go to the Desert of Columns to help a Molekin named Diggs escape from a mega-sized monster. When the Skylanders returned, Stealth Elf accompanied Spyro, Trigger Happy, and Drill Sergeant to help the Warrior Librarians of the Eternal Archives protect the Archives from being taken. During a battle against mega-sized Chompies, Kaos appeared and revealed his true intentions of him claiming to be a hero: he wanted to test his magic staff on a few creatures (growing them into a giant size), trick people into thinking he was saving them just so he could attack the Archive and blackmail its curator, Wiggleworth, into giving the evil Portal Master a forbidden book within the Archives.
During the struggle against Kaos and the giant Chompies, Stealth Elf stole Kaos's staff and uses its magic to grow Spyro to mega-size for him to battle the Chompies. However, Kaos stole back his staff and shrunk Stealth Elf down to the size of an ant. As revenge, the tiny elf stabbed one of her daggers into Kaos's ankle like a splinter, causing the evil Portal Master to painfully drop his staff and allowing Drill Sergeant the chance to destroy it, returning Spyro and Stealth Elf back to normal size. The Skylanders soon defeated the giant Chompies and successfully drove away Kaos from the Eternal Archive.
Skylanders: Giants
Stealth Elf, along with Spyro, Gill Grunt, Stump Smash, and Eruptor, are still frozen as toys on Earth and were put in a toy display inside a toy store called Super Toy Planet. They were few of the Skylanders who witnessed Kaos breaking free of his statue-like form due to his power as a Portal Master. When Kaos noticed the frozen Skylanders and taunted them, Stealth Elf, along with the Skylanders, agreed with Stump Smash when the tree creature angrily declared that if he could move, he'd be 'dropping the hammer' on Kaos right there and then. Afterwards, the present Skylanders could do nothing but watch as Kaos returned to Skylands with the use of a nearby Portal of Power.
The Kaos Trap
Stealth Elf was one of the three Skylanders assigned to deliver supplies to a Mabu mining expedition digging for Radiance Crystals. While travelling there by Flynn's Dread-Yatch, the elven ninja was training herself by attacking training dummies on the deck. Wash Buckler insisted that she relax and enjoy the ride to the expedition, only to be intimidated when Stealth Elf asked if he had a problem with her way of relaxing after making short work of the training dummies. Suddenly, the Skylanders noticed that Kaos' army of trolls are attacking the Mabu mining expedition for the Radiance Crystals, and Stealth Elf, along with Pop Fizz and Wash Buckler quickly dispatch to aid the Mabu.
During the battle, the three Skylanders were forced to handle the trolls on their own due to the other Skylanders currently defending parts of Skylands elsewhere. Things soon turned for the worse when Wolfgang arrived, causing the Skylanders, including Stealth Elf, to feel threatened and outmatched as they weren't prepared to tackle both a Troll army and a villain. Before Wolfgang could begin his attack, the Trap Masters, Snap Shot and Wallop, arrived in time to help their comrades. With their combined efforts, they defeated Wolfgang and drove off the Trolls, saving the Mabu expedition. Both the Skylanders and the Trap Masters are praised by the Mabu leader for their efforts in saving the Mabu, but soon came to notice that the Fork of Infinite Resonance was stolen by the Trolls, causing the Skylanders to ponder on what Kaos was up to.
Rift into Overdrive
While searching for Kaos after his escape from the Villain Vault, Stealth Elf was with Head Rush, Fling Kong, Cali and Sharpfin at Kaos's old fortress in the Cloudbreak Islands in search of the evil Portal Master. On their way out, they were ambushed by a group of dark elite Drow Warriors lead by Count Moneybone and weren't prepared for a rift created by Kaos' Sky Eater. The three Skylanders, Sharpfin and Cali were able to escape and returned to the Academy to report what happened. After learning of the Rift Engines that may reconnect the connection between Portals, Stealth Elf, Terrafin, Jet-Vac, and Gill Grunt were assigned by Spyro to head for Know-It-All Island to discover the whereabouts of the Rift Engines.
Once at the island, the Skylanders and Flynn encountered Blobbers, who was sent by his village to learn about the strange rifts that were destroying everything across Skylands. A nearby Stone Head revealed to the group the history behind the Rift Engines and the fact that Kaos had awakened a power hidden long ago. Before the Stone Head could begin to reveal the location of the Rift Engines, Kaos himself opened a rift and it consumed the island as soon as the Stone Head told a riddle to the Skylanders regarding the location of the Rift Engines. The Skylanders and their friends were soon rescued by non-Skylanders, Spitfire and Stormblade, who transported them all to safety with their vehicles.
After getting acquainted with Spitfire, Stormblade, and other non-Skylanders, Fiesta and Dive-Clops, Stealth Elf and the other Skylanders allowed the SuperChargers to help the Skylanders on their journey as there was no other available transportation. While treking through Skylands, the Skylanders and SuperChargers figured out the Stone Head's riddle and came to the Whirlpool of Destiny where the Rift Engines were hidden in an underwater city. While Dive-Clops and Gill Grunt used the Dive Bomber to begin their search underwater, Jet-Vac and the other land Skylanders held back a group of Kaos' minions to buy their friends some time.
As they were about to become overwhelmed, Gill Grunt and Dive-Clops succeeded in hauling the Rift Engines from the underwater depths. Stealth Elf, Jet-Vac and Terrafin were shocked at seeing Gill Grunt's SuperCharged form, who quickly instructed his three companions to unlock the chest and hope the Rift Engines inside chooses them. As they touched the Rift Engines, Stealth Elf, Terrafin, and Jet-Vac were granted the powers of SuperChargers which transformed them, and they used their newfound abilities to drive off Kaos' minions. With the Rift Engines at their disposal, the Skylanders, and the newly-formed Skylander SuperChargers, began their adventure in stopping Kaos and his latest plan.
Skylanders: Imaginators
Stealth Elf and Spyro competed with each other in a friendly race around the Skylanders Academy, ending with Stealth Elf being the victor with the help of her decoy. Suddenly, a streak of magic shot into the academy library and out emerged a Doomlander stealing a book regarding Imaginite. While attempting to engage the creature, it proved to be too strong, but it was driven away by the arrival of the Senseis, who Stealth Elf recognized as "masters".
Stealth Elf met up with Spyro again after the dragon investigated Cradle of Creation with the Skylander. The clues left behind at Skylander Academy lead the Skylanders to Mushroom River and Scholarville, the latter where Stealth Elf accompanied the player Skylander through the village raid. When Brain used his Mind Magic with Kaos, Stealth Elf was among the Skylanders who were affected by the brainwashing spell. She was later freed when the Dragons used their magic to undo most of the brainwashing around Skylands, and Stealth Elf was able to accompany the other Skylanders in launching an attack at Kaos' Lair.
In the Enchanted Elven Forest, Stealth Elf and the Skylander discover that mutant plants have overrun the great forest as a result of Grandmaster Cami Flage's experimental fertilizer. Stealth Elf also noticed that her old master had gone completely insane, and throughout the adventure, she made several attempts to calm Cami Flage down while the elven elder was setting forest fires to try and stop the mutants.
Relationships
Spyro
Spyro is a fellow Skylander and ally to Stealth Elf, being in good terms with one another on most occasions. However, as shown in Imaginators, she can be a little irritated or baffled by his jokes at times, and is not afraid to pull Spyro's leg from time to time.
Drill Sergeant
Although Stealth Elf considers Drill Sergeant as an ally, she gets irritated by the Arkeyan bulldozer calling her 'sir' due to Drill Sergeant's original programming to obey orders.[7]
King Pen
The elf ninja treats the Brawler Sensei with utmost respect, going so far as to bow before him at his presence.
Grandmaster Cami Flage
Stealth Elf admires Cami Flage, but her diminishing sanity has made the elf frustrated with her mentor over the years. While trying to convince the Grandmaster to stop, Stealth Elf goes as far as attempting to convince her to take a vacation far away.
Gameplay
Being quite swift and agile, Stealth Elf able to skewer and slash swiftly at her enemies with her daggers. She can also create scarecrows of herself that wield scythes to attack other foes and can bring forth a copy of herself as a decoy to distract other enemies while she turns invisible. She can even regenerate her lost health back overtime. Her series 2 wow pow allows her to spin in a blender style with her blades, while her series 3 wow pow allows her to summon a sabertooth tiger for a short time before dealing a powerful kick to enemies.
The Pook Blade Saint upgrade path improves Stealth Elf's direct combat skills. This path includes 2 new attacks – Poison Spores and Blade Fury – as well as maximising the damage dealt by her blades. The final upgrade is the Shadowsbane Blade Dance which grants Stealth Elf magical blades that fight alongside her, increasing her attack range as well as doing chip damage. This upgrade path is combat oriented and best suited to an aggressive play style and the Knife Blender Wow Pow on Series 2 Stealth Elf.
The Forest Ninja upgrade path improves Stealth Elf's decoy ability. This path can increase the number of scarecrow decoys left behind, as well as rigging them to deal damage to enemies by exploding or by spinning blades at the end of their arms. This upgrade path is support oriented and best suited to a sneakier play style and the Surprise, Tiger! Wow Pow on Ninja Stealth Elf.
Note: with Ninja Stealth Elf's Wow Pow Surprise, Tiger! When activating the tiger you cannot activate your scarecrow decoy at the same time making the Forest Ninja path on Ninja Stealth Elf fairly redundant, having to choose every time you activate your stealthier decoy ability to use your scarecrow or your tiger ability.
In Skylanders: Battlecast, she also has the ability to imbue her blades with Nightshade Oil, increasing their damage and keeping anyone attacked by them from casting spells, and other abilities that allow her to attack sideline enemies by going after them or swapping them in. Her Gear is the Scorncrow, a dummy that reduces enemy power, and her Special Ability is Enchanted Blades,which temporarily increases her power. Her scrapped Relic is the Ninja Scroll, a shrine that increases the power of every attacking ally.
Stats
Abilities
Quests
Quotes
Character Trailers
See also
Gallery
Trivia
References