"You know what they say: if you can't win, cheat!"
    —Spellslamzer
Spellslamzer is a large Spell Punk, referred to as the "ultimate" Spell Punk[1], who first appeared in Skylanders: SuperChargers. Originally the champion of BattleBrawl Island who promised to grant one wish to whoever could defeat him in the ring, the Skylanders battled Spellslamzer for information on the Spell Punk Library. He later serves as the main antagonist of the Secret Agent Secrets story arc, referred to as a warlord.
Personality
Spellslamzer is a devious Spell Punk who is willing to use trickery to gain the advantage in battle. After his initial appearance in SuperChargers, he is ruthless and shows no regard for the lives of innocents. This was shown when he ordered Voodood to execute a Mabu miner for accidentally breaking one of the radiance crystals that was the key to his goal for world domination.
Abilities
Spellslamzer is a powerful sorcerer, his magical feats have included; flight like all other Spell Punks, teleportation, as well as creating portals. He can fire spheres of energy out of his hands, he also can blast a beam of energy from his face, along with being able to launch a barrage of energy balls from his hands and face into the air which then explode when they hit the ground. He can also summon a variety of other Spell Punks to help him fight. He is also shown to be able to project images such as when he projected various runic symbols onto Hugo's book. Spellslamzer is capable of creating other realms such as his nightmare realm, where the Skylanders are "completely under his power".
Story
Skylanders: SuperChargers
Spellslamzer was the crowned champion of the battle arena on BattleBrawl Island, often resorting to using trickery in attempts to win his battles. When the Skylanders sought him out for navigation around the Spell Punk Library, they had to defeat Spellslamzer in the ring in order for him to tell them the information they needed. During their battle, the devious Spell Punk cheated by teleporting the Skylander into his nightmare realm away from onlookers until he brought them back to BattleBrawl Island. The Skylander eventually defeated Spellslamzer, and true to his word, he told them how to navigate through the Spell Punk Library before disappearing.
Players can race as Spellslamzer in his Rune Slider vehicle after defeating him in the Mystical Vault Boss Pursuit. 
Secret Agent Secrets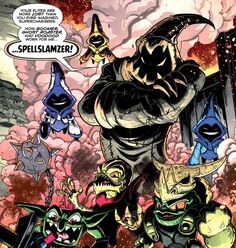 Spellslamzer and his group of Spell Punks and Dark Drow were responsible for the disappearance of Buzz's elite team of Skylanders, Boomer, Voodood and Ghost Roaster. When SuperChargers, Spitfire, Stormblade and Nightfall, were sent to find their lost comrades, they were promptly defeated by the Elite Skylanders who now work for Spellslamzer. With the defeated SuperChargers in tow, Spellslamzer and his group returned to their hideout, the Spellhold, where he announced to his army their plan to raid the Mabu Radiance mines of their rare and powerful minerals, therefore controlling the crystal supply to become the supreme power in all of Skylands. In addition, he and his minions would ride out in the SuperChargers' own vehicles at dawn. When Spitfire, Nightfall and Stormblade attempted to escape, Spellslamzer had them strapped to the front of their vehicles as the villains and the corrupt Elite Skylanders rode out towards the mines to begin their attack.
Once at the Radiance Mines, Spellslamzer and his army began forcing the Mabu miners to gather the radiance crystals, proclaiming that every crystal was worth more than the lives of the Mabu. Voodood and Boomer suddenly turned against Spellslamzer, revealing that the three Elites pretended to be evil from the start just to infiltrate his operations. However Ghost Roaster remained on Spellslamzer's side, catching Boomer and Voodood by surprise. Before Spellslamzer could punish them for their treachery, Spitfire, Stormblade and Nightfall arrived on the scene, having been freed by Softpaw (who was pretending to be one of Spellslamzer's minions). An all-out brawl broke out between Spellslamzer's army, including Ghost Roaster, and the Skylanders. When Stormblade refused to fight Ghost Roaster after reminding him of being a hero, Spellslamzer ordered the ghoul to finish her off. Instead, the Spell Punk was blasted away and rendered unconscious when Ghost Roaster threw his explosive ball-and-chain at the Radiance crystals the Spell Punk was floating over.
See also
Gallery
Trivia
Spellslamzer's face resembles Star Strike's.

In Secret Agent Secrets, for a single frame his mouth can be seen, resembling the ones from Toys for Bob's Spell Punk designs - white and with sharp fangs.

He somewhat resembles Ghostfreak and Zs'Skayr from Ben 10, and the Garo from The Legend of Zelda: Majora's Mask.
He is voiced John Kassir, who also voices Rizzo, Ghost Roaster, Rizzopolus, and Short Cut.
Despite Spellslamzer being defeated and chained up in the arena by the Skylanders, a copy of Spellslamzer can be seen in the audience when Baron von Shellshock walks off-screen.
He is absent in Skylanders: SuperChargers Racing, where he is replaced by Gulper.
References
Community content is available under
CC-BY-SA
unless otherwise noted.