Raise a Floppa - The Loop
Play Sound
"Swappable. Unstoppable."
    —Skylanders: Swap Force tagline
Skylanders: Swap Force is the third installment in the Skylanders series, the sequel to Skylanders: Giants. In this game, a new group of Skylanders are introduced: the SWAP Force.
Story Summary
Portal Masters embark on an all-new adventure in the mysterious Cloudbreak Islands, home to a mystical volcano that erupts every hundred years to replenish the magic in Skylands. During an epic battle, a brave group of Skylanders were caught in the volcano's eruption, which blasted them apart and sent them to earth. But, the magic of the volcano gave these heroes a remarkable new power — the ability to swap halves — turning them into a special team known as the SWAP Force.
Meanwhile, Kaos is back with a new evil plan. And now, Portal Masters everywhere must reassemble the SWAP Force — in their original form or in new combinations — and send them back to Cloudbreak to save Skylands![1]
Gameplay
Due to the game being developed by Vicarious Visions, Swap Force now possesses a jump ability for all Skylanders, a mechanic that was unavailable in the previous console titles. If the Skylanders fall off a path, they don't get hurt, and are simply reset back on the path, making the game very forgiving with the young target audience.[2]
Vast Possibilities for Play
Skylanders SWAP Force features 16 new interaction figures with new powers and a fresh play pattern – dynamic swapability – that lets players create more than 250 unique character combinations, giving them more choice than ever before over how they fight and move in the game. With each new addition to their Skylanders SWAP Force collection, Portal Masters unlock an exciting world of possibilities.
More Play Options
For the first time, Portal Masters can experience new dimensions of gameplay including the addition of jumping. And, seasoned fans can play Skylanders SWAP Force with their entire collection of characters from Skylanders Spyro's Adventure and Skylanders Giants. Skylanders SWAP Force delivers a diverse and dynamic, story-driven gameplay experience, filled with adventure, combat, puzzles, mini-games, and drop-in/drop-out co-op - all set within compelling environments.
All New Characters
More than 50 collectible characters including: 16 new SWAP Force characters, 16 new Skylanders characters, 8 LightCore™ Skylanders characters, 16 new versions of fan-favorite Skylanders from the previous games, each featuring an all new "Wow Pow" upgrade power.
Exciting Adventure
Portal Masters embark on a brand new adventure, encountering never-before-seen enemies and challenges, as well as meeting memorable non-playable characters who can help the Skylanders defeat Kaos and his minions in the Cloudbreak Islands.
Unique Swap Force Zones
Skylanders SWAP Force characters feature traversal abilities – such as flying, climbing, racing, digging, bouncing, or teleporting – each of which can be explored in new areas of Skylands that are centered on these new play mechanics.
Enhanced Graphics Quality
Swap Force's high-resolution graphics bring to life amazingly detailed characters and richer environments to deliver a high level of visual fidelity that immerses players in the game like never before.[3]
List of Skylanders
Plot
The story begins with Master Eon introducing the player to the world of Skylands as well as its protectors, the Skylanders. The veteran Portal Master then reveals the backstory of a special group of Skylanders known as the SWAP Force, who protected the Cloudbreak Islands and its magical volcano that regenerates the magic in all of Skylands every one hundred years. During an epic battle against a swarm of Fire Vipers summoned by a dark figure, the SWAP Force were caught in the eruption of the magic volcano, which granted them the ability to swap halves, but in the process banished them to Earth.
In the present, Flynn is on vacation at the Cloudbreak Islands to see its next one hundredth eruption. He is encountered by Tessa, a fox girl riding on a large bird named Whiskers, and thrust into another adventure when Kaos ordered a group of Greebles to attack Tessa's village before the volcano celebration...
The heroes manage to take refuge in Woodburrow, but when they arrive, Rufus informs them that the Chieftess has been kidnapped by Evilized Greebles and held in Cascade Glade with the Gillman and Yeti Councillors. Although the Skylanders were able to rescue them, Kaos managed to know the location of the Ancient Elementals. His plan was to use Petrified Darkness, a malignant crystal that turns anyone into an evil version of themselves, to evilize any one of the elementals. With an evilized elemental performing the ancient ritual, the volcano itself would become evilized and spread darkness throughout Skylands.
3DS Version
As Flynn receives a celebration for his heroic efforts in his home of Boom Town with his friends, it is attacked by Count Moneybone and his clockwork army. Sarcastically claiming the celebration as his, he takes a few "parting gifts", stealing Flynn's golden statue and turning Cali into an undead being before taking her as well. Stopped by the army, Flynn and Hugo are unable to take chase before they escape through a coffin gate, and after the Skylanders' arrival through the Sky Docks, need to study the newfound clockwork robots to discover Moneybone's whereabouts.
Their quest takes them to the Ancient Woods to cut his mana fuel sources before the forest is drained of its magic, to the Crystal Caverns to stop the mining of power crystals by a mechanical worm minion, and the Coral Head Cove to uncover the robot factory assembling the clockwork army. However, Moneybone was still at large, and desperate to find his true hideout, the group seeks out the Water Dragon in Samurai Islands for an answer, agreeing to save nearby villages from lava flows to obtain the Skeleton Key, that opens any door on Skylands.
Opening the coffin gate and being dragged to the Undead Fiesta, they discover Moneybone's villa overlooking a spooky village where they discover his plan to use an Immortalizer Ray and turn all of Skylands into zombies, and take chase after him in his Clockwork Castle. After a climatic battle in his large vault of gold and office, his chest gear, that controlled all of his machines, was destroyed, ruining his plans and removing the spell cast on Cali.
Levels
Adventure Packs
Story Scrolls
Magical Pyrotechnics
Greeble Lands
Magical Recycling
The Grave Monkey
The Glass Hat
Motleyville Junk
The Fire Vipers of Doom
Frozen Galleries
Whirlwind's Gift
Party on the Mountains
Dangerous Perfession
Kaos' Laboratory
The Clocktower
The Platinum Sheep
Enchanted Pool
The Great Hollow
Cast
Laura Bailey - Persephone, Ninjini, Mini-Jini
Troy Baker - Rattle Shake, Sunburn
Christine Baranski - Kaos' Mom
Abarham Benrubi -
Bob Bergen - Wind-Up
Gregg Berger - Magna Charge (uncredited)
Jeff Bergman - Zap
J.B. Blanc - Spy Rise
Thomas Bromhead - Dino-Rang, Drill Sergeant
Robert Cait - Fryno
Joey Camen - Boomer, Free Ranger, Terrafin, Terrabite
Cam Clarke -
Ryan Cooper - Wrecking Ball
Chris Cox - Glumshanks
Kathryn Cressida - Scratch
Elizabeth Daily - Sprocket
Grey DeLisle - Mesmeralda, Smolderdash
Darin DePaul - Gill Grunt, Gill Runt
John DiMaggio - Wash Buckler
Benjamin Diskin -
Robin Atkin Downes - Hoot Loop
Jake Eberle - Rubble Rouser
Chris Edgerly - Pop Thorn
Greg Ellis - Jet-Vac
Gideon Emery - Zoo Lou
Keythe Farley - Eruptor
Dave Fennoy - Slobber Tooth
Keith Ferguson -
Chris Fries - Grilla Drilla
Bobcat Goldthwait - Pop Fizz
Marc Graue - Blind Beard
Daniel Hagen - Master Eon
Jess Harnell - Blast Zone
James Horan - Cluck
Richard Steven Horvitz - Kaos
Danny Jacobs - Swarm
John Paul Joyce -
John Kassir - Ghost Roaster
Josh Keaton - Spyro
Tom Kenny - Stink Bomb
Matthew Yang King -
Maurice LaMarche - Night Shift
Lex Lang - Grim Creeper
Tobie LaSalandra - Cynder
Misty Lee - Star Strike
Kip Lennon -
Mark Lennon -
Patrick Lennon -
Jonathan Lipow -
David Lodge -
Yuri Lowenthal - Fright Rider, Softpaw
Peter Lurie - Prism Break
Paul Mercier -
Candi Milo - Chieftess
Lani Minella - Sonic Boom
Dave B. Mitchell - Sharpfin
Sumalee Montano - Cali
Matthew Moy - Shroomboom
Masasa Moyo -
Julie Nathanson - Chill
Alex Ness - Double Trouble, Drobot, Lightning Rod
Elle Newlands - Avril
Nolan North - Dune Bug,

Mayor McBoom

Chris Parson - Wham-Shell
Jim Piddock - Willowbark
Tara Platt - Punk Shock
Enn Reitel - Time Keeper
Kevin Michael Richardson - Stump Smash, Tree Rex, Barkley
Bumper Robinson - Bouncer
Rino Romano - Scorp
Salli Saffioti - Whirlwind
Dwight Schultz - Ignitor
Roger Craig Smith - Boom Jet
David Sobolov - Bumble Blast
Kevin Sorbo - Crusher
Tara Strong - Flashwing
Cree Summer - Roller Brawl
Keith Szarabajka - Flameslinger
Richard Tatum - Countdown
Courtenay Taylor - Hex
Mitch Urban - Snagglescale
Kari Wahlgren - Tessa
Patrick Warburton - Flynn
Audrey Wasilewski - Stealth Elf, Whisper Elf
Rick D. Wasserman - Rufus
Billy West - Fire Kraken, Freeze Blade
Scott Whyte -

Wheelock

Travis Willingham - Doom Stone, Eye-Brawl, Eye-Small, Gorm
Dave Wittenberg - Trigger Happy, Trigger Snappy
Marc Worden - Trap Shadow
Robbie Wyckoff -
Michael Yurchak - Hugo
Crew
Keythe Farley - Voice Director
Amanda Wyatt - Voice Director
Development
Skylanders: Swap Force started out as an original Vicarious Visions concept about how the developers could build on the greatness of Skylanders - playing together, building your collection, and the value of the collection itself. Also, what's fun from a toy standpoint: not just what's better on the video game side, but what makes for an interesting play pattern on the toy side? The toy design is actually led by Vicarious but I-Wei Huang, Character Director, and Paul Reiche III, Founder have a close interaction on iterating with the designs and making them home in the Skylands.[4] During development, the names "Super Nova" and "Nova" was used as a fun name for the project before a main title was chosen.[5] These names can be found on early concept art by lead concept artist Jeff Bellio.[6]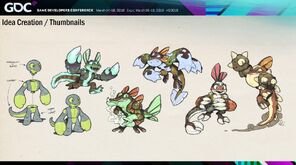 Less than a year after having two major projects cancelled, the team at Vicarious Visions didn't quite know what they were going to do in the third main entry in the Skylanders franchise. "We knew that we wanted to do something that built off of that and added new magic to bring toys to life", Vicarious Visions' Jeremy Russo explained. "One idea we kept coming back to was mix and match. The idea of taking apart different characters and recombining them to create something unique."
This idea was known as Skylanders: ShapeShifters with the main gimmick having Skylanders take on different forms, even forms that resemble their allies.[7] During the development stage of the game's gimmick, the part swapping mechanics were also tested on various types of characters, including dragons and quadrupeds.[8]
The mix-and-match concept from Skylanders: ShapeShifters, later becoming Swap Force's main gimmick, was in its infancy at that point. The team hadn't figured out much of the gameplay or logistics yet. Still, when Activision's executives visited, the idea was approved. Russo recalled that Activision CEO Eric Hirshberg even called it "magical". From there, the studio was off to the races to make the magic come to life.
"We initially split it into two groups" Russo detailed. "We had engineers figuring out how it would actually work." The original engineer-created character was essentially a mound of clay with an audio jack connecting two parts. It was crude, but effective at laying the base for how magnets would later bring it to fruition.
"Separately, we had designers and artists focusing on the game concept, like what this would actually mean to the player", Russo said. "That was a lot of fun, but it was all just theory at that point. We knew we had something magical but we just weren't making that connection between the hardware and the software at that point."
Then Engineer Brent Gibson made what later became known as the "Frankenlander". He went home, took apart a bunch of Skylanders and made a three-piece creation (or maybe abomination) using Spyro's head, Prism Break's torso, and Voodood's legs. A video created by Gibson in the wee hours of the morning circulated around some of the team leads, showing, with no audio, Gibson taking Spyro's head, and thanks to the magic of magnets, attaching it to the torso and the legs with one hand. It was the eureka moment of the entire project. The proof of concept that the Swap Force concept could actually work. And it happened before the first Skylanders game even hit stores.
Gibson was then instructed to make a few more of these beasts so they could use them as the basis for the new characters. No longer using his own home as the workshop, he worked in the New York studio's own facilities. While cutting Skylanders into pieces for the good of the Cloudbreak Islands, Gibson managed to slice his hand open. Blood pooling in his hand, he tried to cover it up, until someone discovered him and then lead him to a garbage to dump his handful of blood and after that, the hospital. Gnarly scar in hand, Gibson was one of the key catalysts driving Swap Force from theory to reality.[9]
Reception
Skylanders: Swap Force received mostly positive reviews. Venture Beat holds the game with the score of 90/100 and adds that 'while the inclusion of the jump button certainly makes for more varied gameplay, it also may add more challenge for the younger gamers in your household.'[10] Game Informer gave it a 8.50, saying that the game 'handles the empowerment of playing god convincingly'.[11] IGN gave Swap Force an 8.5, stating that the game 'delivers almost everything fans could want. There are fantastic new characters, a funny story, and a complete disregard for the boring rules that say robots and wizards shouldn't be part of the same world.'[12]
Gallery
Videos
Trivia
This is the first Skylanders game that includes the jumping mechanic in the console versions.
This marks the first Skylanders game to feature high-definition graphics.

As a result, every character from the previous games was recreated in high-definition for SWAP Force.

Rocket, Climb, and Dig Swap Zones have both of their levels in Mount Cloudbreak and Boney Islands.
Climb, Speed and Bounce Swap Zones have both of their levels in Rampant Ruins and Kaos' Fortress.
Teleport, Rocket, and Sneak have both of their levels in Fantasm Forest and Sheep Wreck Island.
This is the first Skylanders game whose console versions aren't mainly developed by Toys for Bob, though Toys for Bob worked closely with Vicarious Visions on the game and character design.[2] The game was also worked on since before Spyro's Adventure was released, meaning both teams had to find their own way around toy production.[13]
This marks the first Skylanders game to be released in North America before other regions. In the previous two games, Australia got the installments first.
The 3DS version of SWAP Force is the first to include voice acting, something that was absent in the previous 3DS titles.
Three concessions had to be made by developer Beenox in order to take a game optimized for Xbox 360, PlayStation 3, and Wii U, and make it work on Wii. The first was lowering the resolution across the board so the game ran at 480p, the maximum resolution Wii supports. This immediately scaled back the game's demands.

Because most of the levels in Skylanders: SWAP Force are so large, the Wii version breaks select oversized levels into two parts that are loaded separately. Naturally all load times in the Wii version will take longer than on the other console platforms.[14]
Because of the Wii's hardware limitations, the graphics had to be scaled down to the point where some graphical effects are of lower quality. Some (like the fog in Frostfest Mountains) are even missing entirely.

This is the first Skylanders console game to exclude the swimming ability.
In the 3DS version, a celebration is being held at the first day of Spring. As of Superchargers, this is the only game with a known date in its events, though it is unknown if Skylands' calendar is the same as any of Earth's.
The reveal trailer used the hit song from the 2000s, Weapon of Choice by Fatboy Slim, also popular on internet culture due to its music clip featuring the actor Christopher Walken.
References