Raise a Floppa - The Loop
Play Sound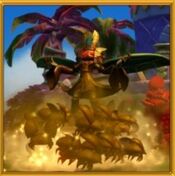 Sky-Chis are special abilities of Senseis, first appearing in Skylanders: Imaginators. They have a meter that fills up over time and as they defeat enemies, and when full, can be used to unleash a devastating technique that deals great damage, each unique to each Sensei. Sky-Chis must be unlocked from Sensei Shrines, and only the ones that correspond to its Battle Class.
The Sky-Chi also has its own button to be activated unlike most Skylander moves, and must be held down for several seconds to be activated, as to keep players from accidentally using up the meter.
Though all are thematically different, Sky-Chis from the same classes play similar, such as Cortex, Pit Boss and Golden Queen all summoning attacks from afar.
List of Sky-Chi Abilities
Trivia
Though Sky-Chi is the first special move tied to a figure gimmick, they are not the first one in the series. In the 3DS version of Skylanders: Trap Team, Trap Masters can use Trap Attacks after filling up their Trap Meter, and they are cinematic moves that always attack in an area of effect for considerable damage. Unlike Sky-Chis, they always have the same effect no matter the animation.
Quickshot Sky-Chis are similar to the Death Blossom Secret Technique.

Sentinel Sky-Chis are similar to the Top Spin Secret Technique.

Golden Queen's Sky-Chi has the same name as one of her Skylanders: Battlecast spells.
Ambush's Sky-Chi is the only one that does over 1,000 damage to the remaining enemies after the rest got wiped out by the end of it.
The Sky-Chis performed by King Pen, Ambush, and Aurora are similar in style, which involves slashing through enemies at super speed.
Kaos's Sky-Chi is the only Sky-Chi that does not require a Sensei Shrine to unlock. Instead, it is automatically unlocked when placing Kaos's figure on the portal for the first time.