Quigley is a young Mabu child in Skylanders: Spyro's Adventure who, when interacted with, has contextual speech depending on the player's current Skylander. He is the son of the Mabu Royal family on the Shattered Island, and after being rescued, he can be seen wandering around the Ruins from here on out.
Quigley makes a reappearance in Skylanders: Giants in Rumbletown where he names a Life elemental zone after him, and later challenges the Skylanders to Skystones. In Skylanders: Trap Team, he attends the Skylanders Academy in the hopes of becoming a Skylander.
Quotes
General
"That little mole dude is always so worried. Maybe he should read a different book or something."
"The Balloon man is kinda weird. He just keeps talking about himself."
"My mom told me not to talk to strangers..."
"My teachers are crazy. All they do is load me up with homework. Don't they know the Core of Light needs to be built!"
"It was cool how you saved my family like that!"
Skylander-Specific
Trivia
In Skylanders: Giants he plays Skystones with you with only Axecutioners and if the player beats him, they get the Axecutioner Skystone (but only the first time).

Quigley is arguably the hardest to beat at Skystones, but one can beat him with stones that have at least one side with 4 blades.

He acquired his incredible deck of Skystones after constantly bugging his parents to get him the best Skystones the day they came out. Eventually he just wears them down.[1]

Quigley is slightly redesigned and lacks his propeller cap in Skylanders: Trap Team.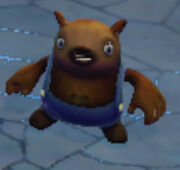 His quote to Spyro, "Haven't I seen you someplace before?", is likely referencing that the Skylanders series is a reboot of the Spyro franchise.
References
↑

Skylanders: Giants Strategy Guide - Burning Questions!, page 147
Community content is available under
CC-BY-SA
unless otherwise noted.