Raise a Floppa - The Loop
Play Sound
"Any Last Wishes?"
    —Ninjini's official catchphrase

Ninjini is a Magic ninja genie, and one of the eight Giants in Skylanders: Giants. She has an alter ego called Scarlet Ninjini.
Character Development
Ninjini used to have a human-like skin color and blonde hair, and wore shorter clothing such as a crop top, frilly skirt and exposed upper arms.
Background
Personality
An eternal optimist, Ninjini spins into battle, convinced she will always succeed come what may.[1]
Biography
Ninjini was the most renowned magical ninja from ancient times, long before the Arkeyans rose to power. But a dark sorceress, who was jealous of Ninjini's skill as a warrior, trapped her within an enchanted bottle to be imprisoned for all of eternity. Time stretched on, yet Ninjini remained steadfast and determined to escape - even mastering the dual sword technique within the solitude of her bottle. Over the years, her strength continued to grow until alas, through sheer force of will, she broke free! From that moment on, Ninjini made it her mission to help those in need as one of the first Skylanders, always carrying that enchanted bottle as a reminder of her own resilience.
Story
History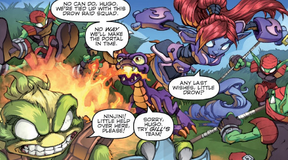 As a ninja with command over the Magic Element, Ninjini was a real force to be reckoned with back before the Arkeyans came along. Her skills, power and snazzy hairstyle drove an evil sorceress mad with jealousy, and using dark magic the sorceress trapped Ninjini inside an enchanted bottle. There she remained for years and years, but she didn't waste a single moment. Instead, she spent her time getting more awesome by the day, developing her Magic abilities and learning how to skillfully wield double swords. Eventually she became too powerful to contain, and managed to squeeze her way free of her enchanted prison. She swore then to use her Magic, ninja skill and massive size to protect Skylands from those would do it harm.[2]
The Kaos Trap
Ninjini was helping Spyro and Stink Bomb battle against a raid of Drow in an unknown area of Skylands. When Hugo called upon them to assist Stealth Elf, Pop Fizz and Wash Buckler on a Level 13 threat, Spyro's team was unable to help out as they were tied up with their current situation.
Gameplay
Ninjini is a powerful Giant who can summon her ninja swords out of thin air to fight in close combat, she can create magical orbs to attack from afar, and hide inside her bottle for faster movement, more endurance and homing attacks such as magical rockets and enchanted mist which entrances enemies.
In Skylanders: Battlecast, hiding inside her bottle gives many bonuses to her spells, though she will break free to attack. Her Special Ability is the Genie's Hideout itself, and her signature Gear is the Star Shell Stopper, magical bombs that only activate when she is in the bottle. Ninjini's scrapped seventh ability, is Blast Wish, would attack an enemy and put her back into the bottle without the need of the ability.
Stats
These are the starting and maximum Statistics for this Skylander in the Skylanders games.

Health: 410 (max. 820)
Speed: 60 (max. 108)
Armor: 48 (max. 78)
Critical Hit: 80 (max. 130)
Elemental Power: 32 (max. 82)
Warning: These stats are not used in any of the Skylander games. They are only listed for completeness reasons.

Strength: 100
Defense: 100
Agility: 100
Luck: 150
Abilities
Quests
Basic Quests
Monster Masher: Defeat 1000 enemies.
Chow Hound: Eat 50 pieces of food.
Arena Artist: Complete an arena without taking any damage.
Battle Champ: Win 10 PvP matches.
Heroic Challenger: Complete a heroic challenge without taking any damage.
Elemental Quests
Elementalist: Cause 7500 elemental bonus damage.
Puzzle Power: Defeat 25 enemies with light puzzle beams.
Warp Whomper: Defeat 1 enemy within 10 seconds of using a teleporter.
Unique Quest
Bottle Beatdown: Defeat 5 enemies within five seconds of exiting your bottle.
Basic Quests
Bad Guy Basher: Defeat 1000 enemies.
Fruit Frontiersman: Eat 15 fruit.
Flawless Challenger: Complete a non-Story Mode level at full health.
True Gladiator: Win 10 PVP matches.
Totally Maxed Out: Reach level 20 and purchase all Upgrades for this Skylander.
Elemental Quests
Unique Quest
Bottle Beatdown: Defeat 10 Golems using Bottle Rockets.
Quotes
Battle Cries
"Any Last Wishes?"
"You wish you could beat me!"
"I have granted you defeat!"
"My blade served me well!"
"I foresaw this outcome!"
"Excellent!"
"Sweet success!"
"How lovely!"
"Viola!"
"Surprise!"
"My path lies ahead."
"Make way!"
"Reveal your secrets!" - when jumping through a cracked floor.
"This place is strong with magic." - when in Elemental Zone
"Ah riches." - when opening a treasure chest
"Such strength!" - on stats screen
"Impressive powers!"
"Wonderful!" - when putting on a hat
"Splendid!"
"I couldn't wish for a better name!" - when given a nickname
"You granted me a fantastic name."
Battlecast Quotes
"Ninjini has arrived!" - scanned in
"Behold, Ninjini!"
"And so it begins!" - when selected
"Ready to serve!"
"I wish you a swift defeat!" - Battle Introduction
"Any last wishes?"
"Alakazam!" - Swapping in
"Blades to battle!"
"I shall be watching." - Swapping out
"Poof!"
"My power grows!" - rank up
"My strength is within!"
"Truly mystical!" - randomly when playing spells
"Indeed impressive!"
"I approve." - Summoning a Gear
"Just the thing!"
"A revelation!" - Summoning a Relic
"Ah ha!"
"Showtime!" - Star Shell Stopper
"Now this is a show stopper!"
"Have a ball - all of you!" - Orbital Strike
"There's plenty to go around!"
"All shall be revealed!" - Wishful Thinking
"Wish and be amazed!"
"(Incantation in Gibberish)" - Abra-ca-stab-ra
"No wishes for you!" - Bottle Clocked
"Beware the bottle!"
"A triumphant blow!" - KOed an enemy
"Your destiny at failure awaits!"
"I must rest now..." - when defeated
"I cannot see my path...!"
"Victory has been taken from me..." - defeat at end of battle
"My victory has gone up in smoke..."
"My win was foretold!" - Victory
"You wish you could beat me!"
"I wish you to stop that!" - when poked/idling
"Yes?"
"What say you?"
"You dare to trifle with Ninjini?"
"A grim destiny awaits you."
"Don't press your luck!"
"My strength is ever growing!" - Card Level Up
"Fulfilling my destiny!"
"OK!" - unused
"Right on!"
"I fear no-one!"
"Yeah!"
"Bummer."
"I wish to continue - now!"
"All right!"
"A worth adversary."
"Fate has chosen a tie."
"Nice!"
"Victory!"
"Hey!"
"Cool!"
(sigh) "I could be napping inside my bottle."
"Perfect!"
"Excellent!"
"Not good."
"Success!"
"Sweet!"
"Awesome!"
"Ninjini has NO equal."
Character Trailers
See also
Gallery
Trivia
Ninjini is the only Giant who is female.

She is also the first female Magic Skylander, as well as the first female non-core Skylander.

Ninjini holds her swords for a few seconds after entering the game or using her primary attack, before they disappear with a sparkle effect. They reappear whenever she uses the attack again.
Ninjini is the only Giant that doesn't pick up a boulder and pull a chained isle physically. Instead, she uses telekinesis.
Even when Ninjini hides in her bottle, she can still run over small enemies, such as Chompies, Spiderlings, and Trog Pinchers, like the rest of the Giants. In Swap Force, Ninjini can move while inside her bottle faster than being in Giants.
Ninjini is voiced by Laura Bailey, who also voices Persephone and is the wife of Travis Willingham who voices Eye-Brawl, Doom Stone, and Buzz.

Outisde of Skylanders, she is also the voice of Rayne in the Bloodrayne series, Jaina Proudmoore in World of Warcraft, and Maka Albarn in Soul Eater.

Ninjini is the first Skylander to have her catchphrase not ending with an exclamation mark, the second being Déjà Vu.

Coincidentally, they are both female Magic Skylanders.

Ninjini's Wishbladesplosion attack has the ability to slow time for a short moment. Because of this, she is the only Skylander able to manipulate the flow of time, other than Déjà Vu.
Out of all the Giants, Ninjini took the longest to develop.
Ninjini, Thumpback, and Crusher are the only Giants to have weapons that are not a part of their bodies.
She and Stealth Elf are the only female Skylanders who are ninjas.
Ninjini's name is a play on "Ninja" and "djinni"(or "jinn"), the Arabic word for "genie".
Ninjini has more syllables on her name than any other giant.
Ninjini is similar to Giganta from Justice League Unlimited. Both are female giants who have red haired ponytails.
She is the only Skylander to have a Battlecast spell with the same name as an upgrade, Abraca-Stab-Bra.

Also in Battlecast, her echo filter is replaced with a reverb.

Several aspects of Ninjini were used for the Swashbuckler battle class in Imaginators.
In Ring of Heroes, Ninjini carries her bottle in her belt rather than her back. Oddly, she also has no attacks that use it, though it appears in one of her skill icons.
In Swap Force, when Ninjini is removed from the Portal, she either giggles or says "Goodbye".
References