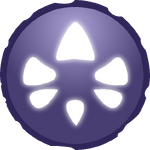 Kaos is a separate Element exclusively for the evil Portal Master of the same name in Skylanders: Trap Team, as well as his Vehicle, the Doom Jet in Skylanders: SuperChargers. It is also used by his self-created clone in Skylanders: Imaginators, who joined the Skylanders and became a Sensei.
In Skylanders: SuperChargers, it is revealed as a symbol of those with powers bestowed by The Darkness.
Abilities
The Kaos element has the ability to harness the powers of the eight original Elements: Earth, Water, Fire, Life, Air, Undead, Magic, and Tech. It also has the ability to summon Doom Sharks and allows Kaos to transform into a mobile version of his projection head, which can be used to shoot lasers and create sound waves.
While Kaos' clone does not possess any powers over the Elements, he is a master of all ten Battle Classes, able to summon mind projections of weapons from all the classes. He can also summon Doomlanders, Doom Sharks and Doom Hands, as well as transforming into a projection of his own head.
Kaos Elemental Characters
Kaos Elemental Items
Trivia
This element has the lowest amount of characters out of all the elements.
The symbol of this element appears on Kaos's forehead and on the front of the dress of Kaos' Mom with a jewel on her necklace completing the emblem. It also appears on the back of Kaos's robe after his Villain Quest has been completed.
This is the only element to have more items than characters.

The original Kaos is only playable using one of the item figures, while the Skylander figure only allows you to play as his clone.

The Kaos element does not appear in Skylanders: Battlecast. Instead, Kaos is of the Blank Element.
Interestingly, for Kaos' Sensei clone, the Kaos symbol is only used as the Battle Class icon in the HUD, while the Element is represented by the Villain symbol in both the HUD and the opening of his Magic Moment.
In the Skylanders Academy television series, it is not an element in itself, but a birthmark.
Community content is available under
CC-BY-SA
unless otherwise noted.