Raise a Floppa - The Loop
Play Sound
"Down for the Count!"
    —Jawbreaker's official catchphrase
Jawbreaker is a robot who is one of the Tech Trap Masters for Skylanders: Trap Team.
Background
Personality
Jawbreaker likes being an individual, even though his robot pals think he should be more like them. Sometimes you've just got to dare to be different.[1]
Biography
Jawbreaker hailed from a race of robots that operated and maintained a vast underground complex of enormous machines that powered the legendary Sky Train, which traveled between a thousand different islands daily. Like many of his fellow robots, Jawbreaker led an ordered existence – full of rules and regulations – which he followed happily. However, one day a huge army of Gear Trolls invaded the subterranean complex. Known for being major train enthusiasts, they were set on taking over the Sky Train for their own evil use. Jawbreaker quickly jumped into action and used his massive fists to beat the trolls into retreat. His quick action and ability to think for himself made him an individual. For this he was made part of the Trap Team, where he now uses his Traptanium powered fists to deliver mighty blows to evil!
Story
Champions
In his Legendary armor, Jawbreaker was the guest of honor in the public opening of the legendary Sky Train, which would help open up the world of Skylands to the remote Cloudbreak Islands. Once the ceremonial Traptanium spike is hammered by Jawbreaker, both the Cloudbreak Islands and Skylands will be officially linked by the magic of the rails. During the ceremony, Jawbreaker warmed up to a young Mabu named Herman, who is his biggest fan. Before the ceremonial Traptanium spike can be hammered onto the tracks to begin the trip, Iron Nose, the leader of the Gear Trolls who attempted to take over the Sky Train in the past, suddenly snatched the Traptanium spike and hijacked the Sky Train and its passengers with the help of his group of Trolls.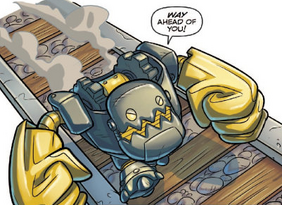 Jawbreaker quickly pursued Iron Nose and the stolen Sky Train by grinding on the rails. When the Gear Trolls detached the passenger cars of the Sky Trains towards a gap they created, the Tech Trap Master jumped over the gap and tried to slow down the cars to prevent them from falling into the hole. However Jawbreaker began to give up as his circuits were overloading and the cars weren't showing signs of slowing down. Herman's encouragement gave the Trap Master the strength and determination to successfully stop the passenger cars and save the inhabitants inside. With the passengers safe, Jawbreaker used his strength to push the train cars forward and catch up with Iron Nose and his troll gang.
Jawbreaker managed to knock out Iron Nose while his trolls fled the scene and retrieved the Traptanium spike. Back at the station, the Tech Trap Master gave the honor of hammering the spike to Herman, who helped Jawbreaker when he needed it most.
Gameplay
Jawbreaker is capable of using his Traptanium Fists to rapidly punch enemies, much like Terrafin, Night Shift, and the villain Bruiser Cruiser. He can also go into his Robo Rage Mode to punch enemies faster. When upgraded a second time, Jawbreaker can punch the surrounding terrain an release a wave of electric sparks. After purchasing his Soul Gem, Hypercharged Haymaker, Jawbreaker can punch while releasing electric sparks.
In Skylanders: Battlecast, his powers also include electrical arcs that attack along with him, summoning virtual objects to simulate an enemy's power and summon a Tech trap containing Dr. Krankcase, thus allowing the mad doctor to attack enemies for as many ranks they have. His Special Ability is Overclock, increasing his power temporarily, and his signature Gear is the Galvanic Armor, increasing power and reducing incoming damage should the owner not attack.
Stats
Abilities
Quotes
Character Trailers
See also
Gallery
Trivia
He and Gearshift are both robotic Tech Trap Masters.
An enemy in Skylanders: Giants share the same name as Jawbreaker.
He has a similar resemblance to Blitzcrank in League of Legends.
He greatly resembles the Bad Bouncers  from Skylanders: Imaginators, the only differences being size, their arms, and Jawbreaker having legs instead of a roller wheel.
One of his attacks, Spark Shock, shares its name with an otherwise unrelated weapon from the Mega Man series.
Jawbreaker is the only Trap Master to have the Traptanium weapon as part of his body.
Drill-X from Skylanders: Giants says his catchphrase as part of his rap.
Jawbreaker is similar to another Skylander, Magna Charge.

Both are robots.
Their Soul Gems are located on the first level of their respective games.
They're both one of the "special Skylanders" (Trap Master for Jawbreaker and Swap Force for Magna Charge).

Jawbreaker's voice actor, Ike Amadi, is known for voicing Atrocitus in Infinite Crisis , LEGO Batman 3: Beyond Gotham and Injustice 2.
Jawbreaker doesn't say his catchphrase when placing him in Skylanders: SuperChargers Racing.[2]
Jawbreaker was planned to be in Skylanders Academy's second season, but he was cut due to budget reasons.[3]
His name is a pun on the alternate name for gobstopper, a type of infamously hard candy.
References