"Scorch anything in your path!"
    —Vehicle Collection

The Hot Streak is Spitfire's signature vehicle in Skylanders: SuperChargers, included in the game's Starter Pack. It was made from elemental magma rock and forged in the depths of the Volcanic Vault. With maximum firepower, it is capable of achieving extreme speeds and ready to scorch anything in its path!
Gameplay
Stats
These are the vehicles stats in Skylanders: SuperChargers.

Armor: ???
Top Speed: 80
Acceleration: 75
Handling: 65
Weight: ???
Racing Stats
The Hot Streak is one of the best all-rounder vehicles in Skylanders: SuperChargers Racing. The vehicle boasts great yet balanced stats, although it's specialty lies in its Top Speed.
The Volcanic Vents mod adds more Acceleration and Armour to the vehicle; the Road Burners mod adds more Top Speed and Firepower. These mods are designed with combat in mind, since they give larger boosts to Armour and Firepower than to Acceleration and Top Speed.
When SuperCharged with Spitfire, the Top Speed receives an enormous boost while Handling receives a great boost; Acceleration gets a modest boost while Firepower and Armour only receive a small boost. This coincides with Spitfire's stats, allowing for great race pace at the cost of weaker combat skill.
The Hot Streaks race weapon is its flamethrower, which attacks anything in front of it as long as the fire button is held down. At Level 16, the weapon is upgraded to leave opponents with a burn that lasts few seconds and deals extra damage. In Land races, the Hot Streak is used by Spitfire with SuperCharged mods, Stormblade with the Volcanic Vents mod and Nightfall with the Road Burners mod.
Mods
Performance Mods
Blue-Fire Tires
Road Runners
Coal Shooters
Speed Demons
Specialty Mods
Blaze Boosters
Volcanic Vents
Block Broiler
Wind Flares
Horn Options
Searing Snarler
Pop Snapper
Fire Crackle
Semi Blaze Horn
Character Trailers
See also
Gallery
Trivia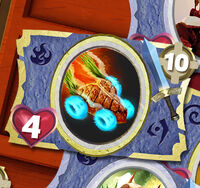 This is the only vehicle to have four in-game variants.
Hot Streak was originally thought by fans to be called Hot Steak because of a typo in the early pre-orders of SuperChargers, with several jokes made about the vehicle being literally meat-themed. Because of this, there is a Skystones Overdrive of grilled steak on wheels called Hot Steak, as an easter egg to the mispelling.
The Hot Streak is one of four vehicles that appeared in the Skylanders Academy TV spinoff series. The other vehicles are the Stealth Stinger, the Sun Runner, and the Tomb Buggy.

As seen in the Academy episode It Techs Two, this Hot Streak counterpart is nicknamed "Delilah".
Community content is available under
CC-BY-SA
unless otherwise noted.