GTA: The Criminal Enterprises - The Loop
Play Sound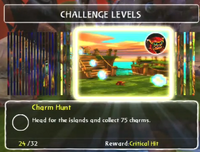 Heroic Challenges are training levels in the console versions of Skylanders: Spyro's Adventure and Skylanders: Giants provided by Cali after you rescue her from the Drow. Each Skylander has their own Heroic Challenge, but all Skylanders can try any of them. There are 32 Challenge levels for Skylanders: Spyro's Adventure, one per Skylander character. Rare Skylanders do not add different challenge levels.
Challenge levels unlock when an unregistered Skylander is introduced to the game. If the Skylander is registered already it will not unlock it elsewhere on the same console unless you change ownership. A Skylander that is owned on a different version of the game can unlock them across the various consoles.
Completing a Heroic Challenge will grant a Stat bonus to the Skylander you complete the level with. The number of Heroic Challenges a Skylander has completed is displayed in the Stats screen under the heading Heroics.
This table shows the Heroic Challenge number, the challenge names, the Skylander that unlocks them, the stat that is boosted and how much it is boosted by.
Skylanders: Spyro's Adventure
Skylanders: Giants
All the original Heroic Challenges (minus Stop, Sheep Thieves, Pod Gauntlet, Spell Punked, Operation: Sheep Freedom and You've Stolen My Hearts!) have returned. However, a Series 2 toy is required to play the challenge in Giants, if they have one made for them, otherwise it must be purchased from Auric's store in the appropriate chapter. Some of the Series 2 models may unlock different challenges (so far, the only confirmed instance is that Chop Chop now unlocks Dungeoness Creeps, Zook unlocks Shepherd's Pie and Cynder unlocks Zombie Dance Party instead).
New ones are as follows:
Tips & Tricks
Completing the challenges with a fast Skylander first will help players become familiar with the route. This will make it easier when attempting that challenge with a slower Skylander.

Skylanders with boost abilities will have an advantage for certain challenges (such as the Bulldoze Charge for Drill Sergeant or Bash's Rock N Roll), as long as the boost move is easy to control.

Since all challenges are time-based, doing challenges that grant speed bonuses first will make the other challenges easier.
Some challenges allow different Skylanders to have elemental advantages. For example, Earth Skylanders have an advantage in Bash's and Ignitor's challenges and Water Skylanders have the advantage in Wham-Shell's challenge. You may wish to try the challenge with the element of the Skylander who unlocked it.
Players can also complete these challenges on their friends' consoles. This means it is not needed to own all Skylanders to get maximum power.
Some challenges require you to avoid attacking certain things. Some upgrades for Skylanders (like Zap's Lightning Strikes Twice, Sonic Boom's Echolocation, or Trigger Happy's Bouncing Bullets) make these challenges a lot harder, so you may wish to do them before upgrading. If you already bought the upgrade, then resetting your Skylander might be the easiest way to complete the challenge (or change path if possible).
Even if a variant of a Skylander is added first to the collection before the original versions, the Heroic Challenges can still be unlocked.
There are 5 Heroic Challenges that are unplayable in Skylanders: Giants. They are S1 Chop Chop's, S1 Zook's, Dino-Rang's, Boomer's and Voodood's. Because of this, the only way to gain stats from those Heroic Challenges is to play them in Spyro's Adventure. New Skylanders and Giants are unable to get those stats from Spyro's Adventure.
Almost all enemies do not have as much health as they normally do. Their attacks do less damage too. This means it is rare to lose heroic challenges by losing all your health.
In Giants, despite Garden Gorger requires Camo to eat 10 Watermelons. Hot Head's Challenge Watermelon's Eleven doesn't count towards the total.
If you complete all 50 Heroics Challenge you'll get a small stats boost in Skylanders: Swap Force and Skylanders: SuperChargers (Speed: +3, Armor: +5, Crit: + 3%, Elemental Power: +6)
Trivia
The SuperCharged Challenges in SuperChargers have similarities with the Heroic Challenges as they require a specific Skylander to unlock them.
Delivery Day appears to be Skylands' equivalent of a Secret Santa, happening in a specific day instead of being an event.
At launch, Imaginators had a glitch where any Skylander from Spyro's Adventure or Giants brought into the Imaginators game would have their Heroic Challenges reset. This was fixed in a future update.