Raise a Floppa - The Loop
Play Sound
"Not the healing kind of doctor."
    —Villain Vault
"The Doctor is In!"
    —Dr. Krankcase's Sensei catchphrase
Dr. Krankcase is a mad scientist who is one of the playable Tech villains in Skylanders: Trap Team. He is a former member of the Doom Raiders, a group of notorious villains.
In Skylanders: Imaginators, Krankcase has given up on a life of crime to become a Quickshot Sensei and train Imaginators.
Personality
Dr. Krankcase is polite and has a friendly disposition towards his enemies, even striking up small exchanges before and during a battle, and also makes puns referencing to his goo guns. He is still, however, a maniacal mad scientist who enjoys creating evil inventions and won't hesitate on unleashing them and his own abilities upon those who oppose him and the Doom Raiders.
After his rehabilitation in Imaginators, Krankcase still holds great pride in his inventions, but now believes that science should be used for the greater "GOO'D" of Skylands, as he puts it.
Story
History
No one is really quite sure exactly what Dr. Krankcase is a doctor of... but his technical engineering achievements are legendary. The secret to his success lies in his modified concoction of glowing green goo, which causes wooden objects to come to life and turn evil. His unique skillset makes him a valuable asset to the Doom Raiders, who have plenty of nefarious uses for evil wooden creatures called Evilikins. It is also commonly known that Dr. Krankcase served as an evil inspiration to Kaos once upon a time, who had figured out how to make his own wooden creatures, the Wilikins, come to life after reading about the doctor's exploits in the Minion Monthly Catalog. Kaos also respected Dr. K's interest in world domination and doom engineering, not to mention his well-documented love of pickles.
Skylanders: Trap Team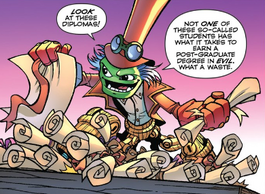 Dr. Krankcase, and the other Doom Raiders, were freed from Cloudcracker Prison by Kaos who attempted to assume leadership over the villainous group. However the villains were more willing to follow the orders of their original leader, the Golden Queen. Dr. Krankcase created an Ultimate Weapon to harness the power of Traptanium for the Doom Raiders to use for their evil ends. When the Skylanders shut off the supply of goo needed to power the weapon, Dr. Krankcase quickly found a solution to the problem to avoid the Golden Queen's wrath. The mad scientist explained that by burying a slice of cheese, it can grow incredibly stinky 10,000 years in the future where the Doom Raiders can retrieve it and bring it back to the present.
Since a Portal Master was needed to travel through time, Dr. Krankcase and Wolfgang were assigned to retrieve Kaos. The Skylanders confronted Dr. Krankcase in his workshop and he engaged them in battle, capturing Kaos in the process. During the fight, Wolfgang arrived, and the mad scientist was left on his own when the werewolf only came to collect Kaos and take him to Time Town. Dr. Krankcase was eventually defeated despite the best of his abilities, and was captured shortly afterwards.
After his capture, the Skylanders took him to Time Town (which is where Wolfgang was holding Kaos hostage) for his Villain Quest called "Diorama Drama", provided by a Wilikin named Leyland. He wanted the mad doctor to see a diorama to see if he found it fun. However, Krankcase instead melted it with goo gun, much to Leyland's horror, though he hinted that their might be a surprise behind it. Krankcase was then awarded with the Wilikin's thanks, a new outfit, and the Bobby hat.
Light in the Dark
During the Annual Mabu Meander, Dr. Krankcase attempted to enter the race and win despite being in a clear advantage over the Mabu children. Knight Mare quickly entered the race as well and chased after the villain. Despite his efforts to slow the Dark Trap Master down, Dr. Krankcase was knocked into a tree by Knight Mare, allowing the Mabu to race fairly.
Skylanders Issue #12 (Graduation Day)
Dr. Krankcase and the other Doom Raiders infiltrated Skylanders Academy by posing as a music band called "The Evil Imposters". Once they ambushed the school staff and scared off the guests, Krankcase began looking through the diplomas of the Skylander students, remarking that they don't have what it took to be evil. He was suddenly sprayed with a blast of water by the Minis, Gill Runt, Terrabite, and Thumpling, and chased after them in a fit of rage. Unknowingly, Dr. Krankcase was led into a trap set by the Minis and wound up getting himself knocked unconscious along with Wolfgang.
Skylanders: Imaginators
Before the events of Imaginators, Dr. Krankcase was responsible for the creation of Boom Bloom.
After being captured by the Trap Masters, Eon gave some of the villains a choice – either go back to a newly reformed Cloudcracker Prison or become a Skylander Sensei, teaching a new generation of Imaginators his formidable battle skills as well as how to stay clear of a life of crime. Krankcase, and few of the other Doom Raiders, accepted this deal but first had to prove themselves by helping to re-arrange all the books in the Academy's library, a task which took almost two years, testing every ounce of will he had. And his knowledge of the alphabet. Now he uses that newfound knowledge to train Imaginators on the A, B, Cs of shooting, as the master of the Quickshot Class.
Other appearances
Skylanders: Ring of Heroes
As the portals ran rampant around Skylands, Dr. Krankcase built an abandoned lab around one of the portals and used its power to build all kinds of machines. Krankcase was experimenting with the Book of Dark Magic given to him by Golden Queen in an attempt to boost its dark powers. When the Skylanders confronted and defeated him, the mad doctor revealed that his hat-bots had already left to give away the book to Wolfgang in Bone Grave Village. To ensure his escape, Dr. Krankcase sprayed the Portal Master, Cali, Hugo and Flynn in sticky goo before making his getaway.
In the Boom Bloom's Episode Dungeon, Dr. Krankcase had just finished creating Boom Bloom in the Abandoned Factory when the mutant plant flew into a rage and tried to exact revenge on the mad doctor.
Gameplay
Dr. Krankcase can fire a spray of green goo from his small gun. He can also rotate his spider legs like a buzzsaw and slide them against enemies. As demonstrated during his boss fight, Dr. Krankcase can create Woodensteins in a matter of seconds from a wooden box, green goo and materials. After completing his Villain Quest, he gained the ability to melt various dioramas throughout Time Town for accessing all areas.
In Skylanders: Battlecast, his abilities are augmented with a mechanic to gradually worsen an enemy's health. His green goo now prevents healing, his Woodstein seeks out weak enemies, and he can create a Smog Machine relic whose intoxicating fumes gradually decrease max health on the enemy side. He can also drop a Barrel o' Laughs on enemies to release a Tech spell's energy as damage. Jawbreaker, also in the card game, has the ability to summon him from a trap Relic, allowing Krankcase to attack enemies for as many ranks they have.
Smog Machine - Relic
Barrel o' Laughs
Woodstein Wallop

Common (Unobtainable)
At the end of your turns, each character loses 10 max health.

Common (Unobtainable)
Gain a random Tech non-character card. Deal 10 damage to each enemy for each energy that card costs.

Common (Unobtainable)
Woodenstein attacks an enemy with 150 or less health.
Green Goo - Special Ability
Common (Unobtainable)
Deal 10 damage to each enemy. They can't gain health until your next turn.
Sensei Stats
Sensei Abilities
In Imaginators, he has kept his spider leg spin though with tweaked speed, and his toxic goo can now be shot from two guns much faster; he can also summon robotic hat minions to attack alongside him.
Quotes
Villain Theme ♫
Krankcase's theme is Catch Me If You Can. Additionally, parts of his boss battle theme use the theme Wonkstep; both from APM Music.
Character Trailers
Gallery
Trivia
Despite being shown as white in his art and clips, his eyes are yellow in-game.
In the Skylander Boom Bloom's backstory, it was revealed that Dr. Krankcase created her as a result of his plant mutation experiments.
The official Skylanders website originally misspelled his name as "Dr. Crankcase." This has since been changed.
Dr. Krankcase is similar to Spy Rise in the following ways.

Both are Tech elemental characters:
Both have spider-like legs.
Both have goggles on their heads.
Both used ranged weapons.

According to one of his trap crystal quotes, he and Mags went to the same inventor school together. The only difference was that Krankcase majored in evil.
One of his quotes is a reference to the Star Wars quote, "May the force be with you."
After losing his legs in his usual habit of misplacing things, Dr. Krankcase attempted in building a new set of legs. Eventually, after designing badly-springed legs that gave him concussion and ruined his hat, the mad doctor went back to the drawing board and built the wooden, spiderlike legs that he now scuttles around to this day.[1]
Dr. Krankcase replaces the Dragon Hunter in Skylanders: SuperChargers Racing.
Dr. Krankcase is susceptible to his own Smog Machine in Battlecast.
Dr. Krankcase is the only character to jump from frontline to the back manually, using a grappling hook instead of portalling out.

However, as a Sensei of the Quickshot Class, Dr. Krankcase now uses two guns instead of only one.

In Skylanders: Trap Team, Dr. Krankcase is voiced by Quinton Flynn, best known as the voice of Axel from the Kingdom Hearts series, Sheldon Lee from My Life as a Teenage Robot and the second voice of Timon from the Timon and Pumbaa TV series. He has also lent his voice to Robot Chicken.

Quinton Flynn is the one of the two voice actors of Timon to have a role in Skylanders (another being Kevin Schon who also voices Lob-Star).

His Sky-Chi move is a reference to Goo Goo G'joob from the Beatles' "I Am The Walrus".

This makes him the second playable character to make a reference to I Am The Walrus, with Brawlrus being the first.

Coincidentally, they are both Tech Elemental characters who first appeared in Trap Team and use ranged weapons.

Krankcase was a character planned for Skylanders Academy's season two, but he was cut due to budget reasons.[2]
Dr. Krankcase and Dr. Neo Cortex are the only playable characters labeled as doctors.
The name of one of his basic upgrades "Splats All Folks" is a pun of the famous Looney Tunes catchphrase "That's all Folks".
His "For the Greater Goo'd" path is a goo pun in the Warhammer reference "For the Greater Good".
References