GTA: The Criminal Enterprises - The Loop
Play Sound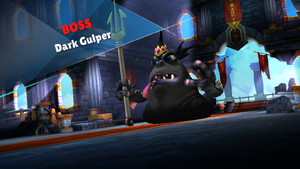 Dark Doom Raiders are corrupted, rampaging forms of the Doom Raiders in Skylanders: Ring of Heroes. In the game's original version, by experimenting with Petrified Darkness during the events of the game, they were temporarily given new forms with different attacks and appearance; using this power to attack Earth Portal Masters on sight and start Guild Invasions. They have color palettes reminscent of the Dark Edition Skylanders, rather than Evilized Enemies. All Dark Doom Raiders were level 70 bosses with infinite health, becoming stronger by every health bar that was depleted and filling up a Rage meter to greatly increase their attacks.
In the revamped version, the Dark Doom Raiders are renamed Shadow Doom Raiders and they hail from the Black Dimension, an alternate timeline where Kaos used Petrified Darkness to rule over them.
Dark Doom Raider Abilities
Pre-Reboot
See Also
Gallery
Trivia
At least some of the Doom Raiders retained their abilities after the events of the game, because of the existence of Dark Golden Queen and Dark Wolfgang in Skylanders: Imaginators.

Oddly, Dark Wolfgang's palette is different in the game, being far brighter than his Imaginators appearance and lacking the silvery shen.
Dark Pain-Yatta and Dark Dreamcatcher retain the pink acessories of their original appearances.

Dark Pain-Yatta was the only Dark Doom Raider present in the launch revamped version of Ring of Heroes, appearing as the final boss in the Mirage Tower. Later on, they were all readded as bosses of the Black Dimension.
Dark Nightshade is the only Dark Edition character to also be of the Dark element.
Dark Luminous is the first Dark Edition entity of the Light element.
Dark Dreamcatcher and Dark Dr. Krankcase are the first Dark Edition characters of their respective elements (Air and Tech). Before, the first Dark Edition entities of those elements were vehicles (Dark Barrel Blaster and Dark Clown Cruiser).